We at the Carlisle Early Education Center believe in educating a child the moment they enter our school. The teachers use the Creative Curriculum and the Project Approach to facilitate this learning. These teaching styles allow the children to play a big part in how and what they learn. Overall the children gain an education through many domains while at play, and during daily learning activities.
We are proud employers of highly qualified and educated teachers. Many of our teachers have a degree in Early Childhood, Elementary Education or a related field. Most also have several years of experience working with children. Their education and experience allow them to provide a variety of quality hands on learning opportunities for children of all ages.
---
Our current classrooms include:
Infant (birth – 12 months)
Tiny Teddies
Big Bears
Early Toddler (13 – 24 months)
Playful Puppies
Crayola Kids
Older Toddler (25 – 36 months)
Alligator Alley
Dinosaur Drive
Preschool (37 months – 5 years)
Leaping Lizards
Busy Bee's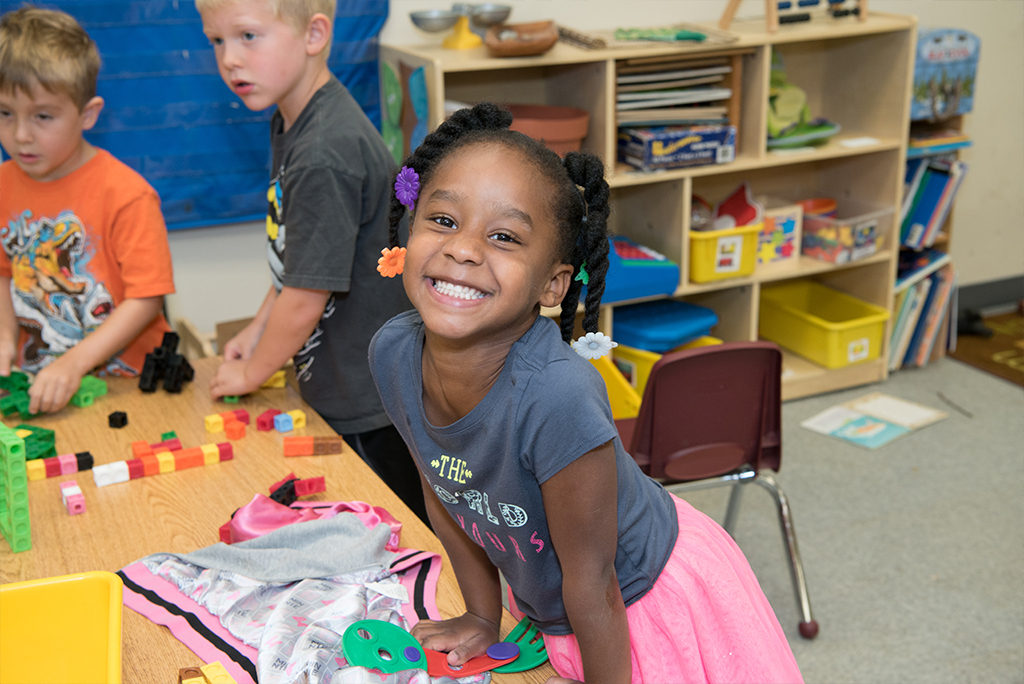 ---
 Classroom Teachers
Tiny Teddies Lead Teacher
I grew up in Perry County and graduated High School in 1997. I started working towards my goal as a teacher in High School by going to Vo-Tech and studying Childcare. After High School I attended Harrisburg Area Community College and graduated with an Associate's Degree in Early Childhood.
I currently live on the outskirts of Carlisle with my husband (Matt) and two children. My daughter Paige and son Wyatt both attended CEEC. I spend a lot of time with my children who are both on a swim team. I also enjoy spending time outdoors taking long walks and bike rides. On most Tuesdays, I attend the Livestock Auction, and it is always possible that I may bring a furry friend home!
I became a fulltime Nanny for seven years before starting in the Daycare Field. I started working at Carlisle Early Education Center in 2008. I have worked with the Preschoolers, Older Toddlers, Younger Toddlers and Infants. I have been working in Tiny Teddies for many years and I truly enjoy each day I spend with the children.
The beginning stage of an infant's life has such a huge impact on the rest of their lives. I look forward to getting to know your child and watch him/her grow and develop.
Tiny Teddies Assistant Teacher
I grew up in York County and attended Redland School District. During my last year of middle school, I moved. I graduated from Cumberland Valley High School in 2010. I started out babysitting at a young age in middle school and got my first childcare position as soon as I graduated High School. I attended Harrisburg Area Community College after I graduated High School. Currently, I am working towards getting my CDA and I plan on finishing the rest of my Associate's Degree after. I've worked with all ages throughout my years of working in the childcare field. My employment with CEEC began in April 2016. I now work in the Tiny Teddies classroom as the Assistant Teacher and I couldn't be happier. Getting to work with the infants and watching them grow each day /learn new things is truly amazing! I spend a lot of my spare time with my family, my fiance (whom I live with), my pets and being outdoors. Some of my favorite things are the color blue, chocolate, the Philadelphia Eagles and motocross.
Big Bears Lead Teacher
I live in Boiling Springs with my husband (Larry) and son (Milo). I love doing things outdoors, reading, and scrapbooking. Spending time with my family is the most important part of my life. I have been working at Carlisle Early Education Center since 2001. I taught in Busy Bees for 10 years. I have been teaching in Big Bears since 2010. I received my Associates Degree from Harrisburg Area Community College in 2008. I received my Bachelor's Degree in 2017. My degrees are in Early Childhood Education.
I have always wanted to be a teacher. When I was in middle school my family started foster care and it made a huge impact on my life. I learned to give children "the benefit of the doubt", because unless you're in their home, you have no idea what they're going through and what a little bit of extra love and care they may need. I feel drawn to children who have behavioral, physical, or emotional needs beyond what is considered typical needs. I took three years of childcare at the vo-tech school during high school; and that is when I decided to work with younger children as opposed to school age children.
My favorite thing about teaching is watching the joy and excitement on children's faces when they learn or discover something new. I strive to give each child some individual attention daily; and use observations to set goals for the children. I think it is important for the children to feel safe and secure while at school and to provide an environment where they can thrive.
Big Bears Assistant Teacher
I have lived in the Newville/Carlisle area my whole life. I graduated from Big Spring High School in June 2000. I knew in High School that I wanted to work with children, so I started working at Carlisle Early Education Center after graduating. I have worked with all age groups during my many years of working with children. Most recently working in Big Bears, I really enjoy this age group. In October of 2013 I graduated with my Associates Degree in Early Childhood Education.
In my free time, I enjoy going to yard sales, thrift shopping, going on road trips, and watching sports (Go Yankees and Cowboys), I'm really excited to get to know your child and provide all the love and guidance for them to grow.
Playful Puppies Lead Teacher
My name is Debbie Walker. I am so excited to be working at CEEC as a teacher in Playful Puppies. I am married to a wonderful man named Bob. I have three daughters, a step son and four grandchildren. I consider myself a blessed woman. I have been a caregiver all of my life. I worked as a CNA, helping to care for residents at Nursing homes. I worked in Home Health Care as well as Hospice Care. I have also worked as a Therapeutic Support Aide for Children and Adults with disabilities. I have taught Sunday School, Children's Church, Church Nursery and was a Youth Camp Leader. I am so happy to be part of your children's lives. I will cherish, love and protect them. I look forward to teaching them and being an example to them.
Crayola Kids Assistant Teacher
Hello, my name is Judy Mahoney. My husband of 43 years and I live in Carlisle. We have two married sons and four grandchildren. I enjoy spending time with my family, cooking, going to the grandchildren's sporting events or just relaxing.
I enjoy working with the teachers, children and office staff at CEEC. I was employed at CEEC from 2006 until 2010. During this time, I took classes and received my CDA credential in Infant and Toddler Development in 2008. After taking a break due to physical issues, I returned to CEEC in 2014. In 2015, I took classes and received my CDA Credentials in Preschool. I am currently the assistant teacher in Crayola Kids.
Crayola Kids Assistant Teacher
Hello my name is Ms. Amy. I live with my husband, our two dogs and three cats on our little farm in Newville. I graduated from West Perry in 2008 and Cumberland Perry AVTS with a certificate in Childcare and Guidance. I started at CEEC in September 2016 as a floater and soon after I became the Assistant Teacher in Crayola Kids. In my spare time, I like to garden with my husband and baking, cooking and all-around spending time with my family. I love getting the chance to see all wonder in the children's eyes as they explore the world around them. Thank you for giving me the opportunity to get to know you and your wonderful children.
Alligator Alley Lead Teacher
I graduated from Carlisle High School in June 1993. I attended York College of Pennsylvania and graduated in 1997 with a Bachelor's of Science Degree in Sociology with a minor in Psychology. I studied many courses that involved child development. My internship as well as research papers and projects all involved topics of children.
I have been employed at Carlisle Early Education Center since August 2005. I have worked with the preschooler's, younger toddlers and currently with older toddlers. I enjoy having fun with the children in my classroom, as well as seeing the children learn and develop over time. I truly look forward to getting to know all the children and families in Alligator Alley.
Dinosaur Drive Lead Teacher
Hello, my name is Amy Savary and I have worked in the education and childcare field for over 12 years. I genuinely enjoy teaching children and watching them learn and grow. I was a National Honor Society graduate from North Hagerstown High School in 2005. In 2007, I was a Dean's List graduate from Hagerstown Community College, where I received an Associate's Degree in Early Childhood Education. In the fall of 2107 I attended Shippensburg University where I began working on my Bachelor's Degree in Education. Throughout my time in school, I worked in both home daycare settings and center-based settings. I live in Chambersburg with my husband, son, and daughter. In my free time, I like to spend time with my family, travel, dance, sing, shop, and organize. I love coming to work each day and seeing the joy on your child's face when they discover something new. I am truly blessed to have this teaching opportunity and to be a part of the CEEC family. I am looking forward to making many memories here in the classroom and getting to know your child.
Dinosaur Drive Assistant Teacher
Hi, my name is Erica Stambaugh. I have worked in the childcare field for a little over 2 years. Before CEEC, I worked at the Adams County YWCA in Gettysburg. I attended New Oxford High School and am currently working on getting my CDA. I have two children who attend CEEC. Some of my hobbies include quilting and going on fun trips with my family. The reason I became a childcare teacher is because I have a huge passion for children and I love to watch them learn and grow.
Busy Bee's Lead Teacher
Hello! My name is Amy Kutz. I am the lead teacher in the Busy Bees classroom. I have a Bachelor's degree in education from Shippensuburg University. I have been in the field of education for almost 30 years; fifteen of those year were spent teaching in a private Kindergarten classroom. I have been teaching at CEEC since 2009. I love teaching pre-kindergarten children. It is so rewarding to see the children learn new things and then use that new found knowledge in our classroom to explore and create. They make teaching fun and exciting, so I want to return. the favor and make learning fun and exciting too! I believe children learn through doing, so I try to incorporate many hands on activities throughout the day. We do many science experiments, art activities, math, language, music and social studies projects.
Busy Bee's Assistant Teacher
Hello, I am Mindy Mansfield and I am the assistant teacher in the Busy Bee's classroom. I have been teaching for about fifteen years. I hold a BA in history and a teaching certification. I have been a part of the CEEC family for three years. I get immense joy from watching and exploring with preschoolers. They are so genuine in their curiosity. They make it so exciting to find new and creative ways to teach them. I love exploring the world around me, and I try to incorporate that into teaching by doing many creative things. I greatly enjoy the process over the product so I try to involve many different activities into the daily lessons. Those activities may include art projects, science experiments, walks, music, social studies and even tasting and trying new things. You can see some of our activities and projects displayed throughout the room.
Outside of my teaching world, I am also a dedicated mother and wife. My family and I reside in Carlisle. I have two children, a girl, Kyleigh and a boy, Philip. Both children have enjoyed many years learning and growing at CEEC. In my free time, I enjoy spending time with my family, especially at our cabin upstate.
---
Check out our Classroom Photo Gallery below!
Click on a picture to make larger and use your keyboard arrows (< >) to scroll.